This first of my Star Wars Cross-Stitch design line: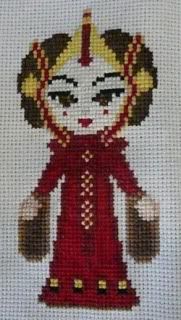 She is stitched on 28 count Aida fabric, uses 21 colors, and is 75 stitches in height and 35 inches in width.
I have 90 other Star Wars patterns in line to follow her, in similar design. As well as 59 Harry Potter, 6 Lord of the Rings, and 40 Star Trek: TNG.
Whew, I better get working!