So this post as been on hold since late November of 2012. I had to figure out how to use the wonderful new photobucket (sarcasam, people, sarcasm) and being a working mom who teaches for a living blogging is on the bottom of my list. *sigh* So I'm uploading 99+ photos to photobucket as we speak. Ew. This is going to take forever.
Despite working like crazy and being overwhelmed (to put it mildly) I still managed to find time to put together a more or less mediocre Christmas for my little family. Christmas 2012 included a Christmas book countdown, Elf on the Shelf, and of course handmade ornaments (always a must!)
The picture book countdown as by far the easiest part of the project. I simply located 24 Christmas books (a lot easier than what it sounds) and wrapped them up in identical wrapping paper. I then labeled each book with a number. I numbered them specifically because there were certain books that I wanted to read on certain days:
They sat next to the Christmas tree for the entire month of December. I think this year, I am going to add 25 books, so that we have a new Christmas book to read
on
Christmas.
This year we (meaning, I) also made some salt dough ornaments, using our fur babies' paw prints: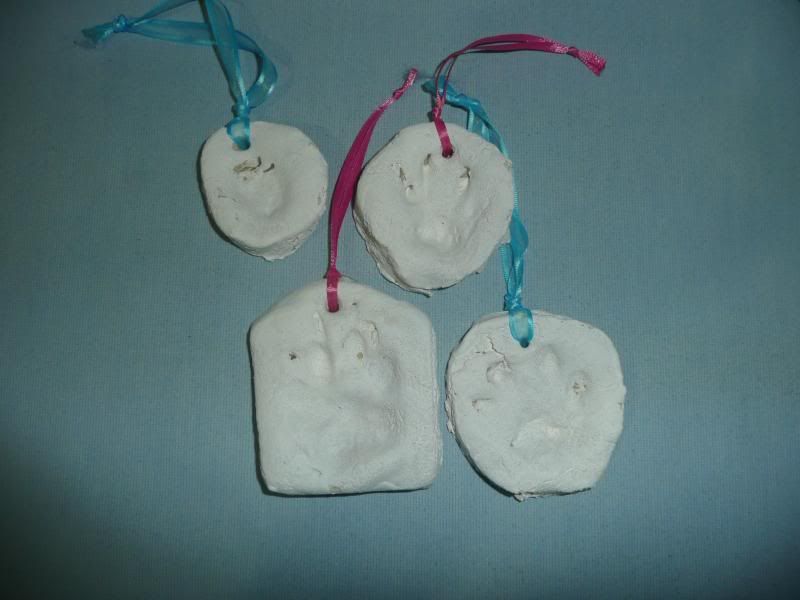 The on the back, I labeled them (just using a sharpie marker and AFTER they had cooked in the oven) with the critter's name and the year.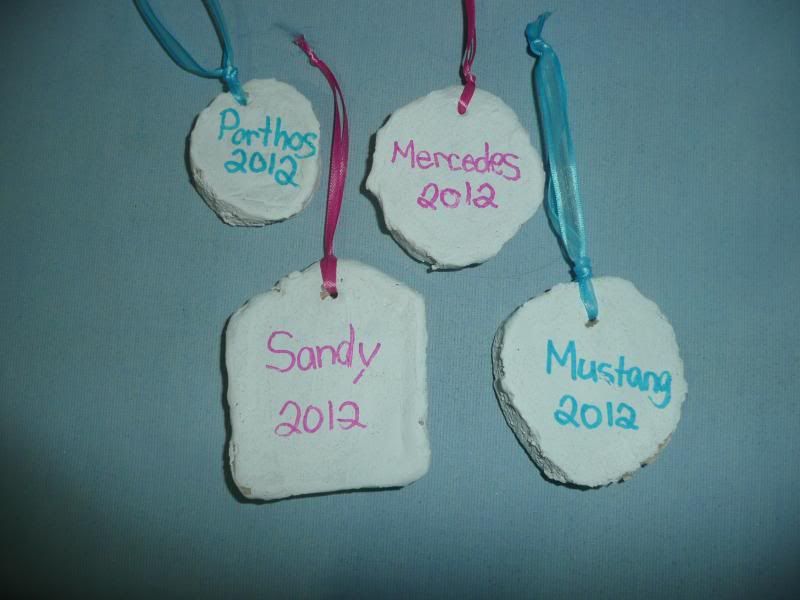 They are a little rough around the edges, but oh well, what are you going to do when you are a crazy, overworked mom?
It put me in the ornament making mood, so I looked through pintrest and various crafting sites for inspiration. Only Michael's (for some reason) carries the hallowed out ornaments made of plastic. Everyone else carries glass. No thank you. I knew my son was going to go bonzo over the Christmas tree (and the pretty, shiny objects hanging from it) so I insisted on making my ornaments out of plastic.
This first one is an Ispy ornament. It is filled with pellon beads and various buttons, beads, and other trinkets that go with Christmas. I super glued the top of the ornament on because I didn't want a disastrous mess once my little man figured out how to open it up. He beat the living daylights out of it and it still held up. Yea!
A snowman ornament is up next. He's adorable isn't he? I filled the ornament with fake snow and some buttons. SO easy and so cute!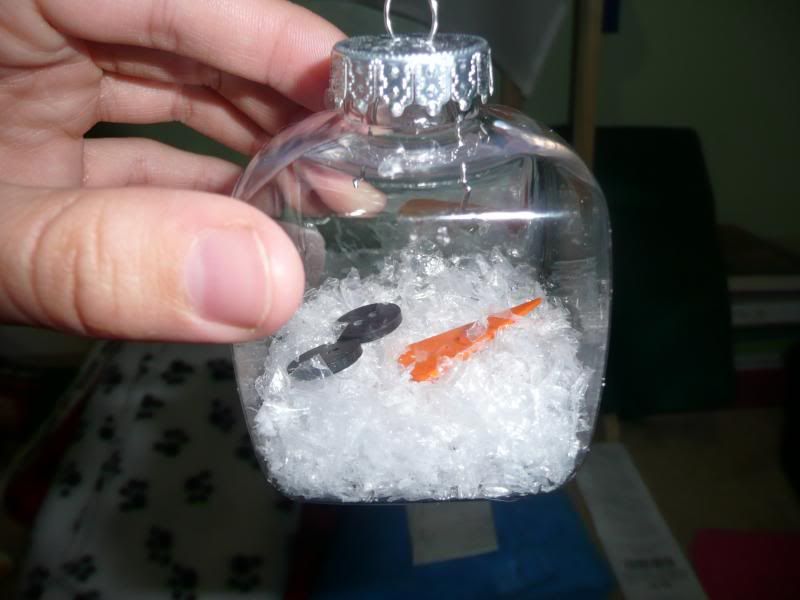 My husband actually inspired this next one. He saw these lego ornaments in their Christmas catalog and they were charging $8 an ornament. Not bad for an ornament, but hey, I could make it for 49 cents! Can't beat the that (the ornaments were on sale at Michael's and I already had the legos on hand!)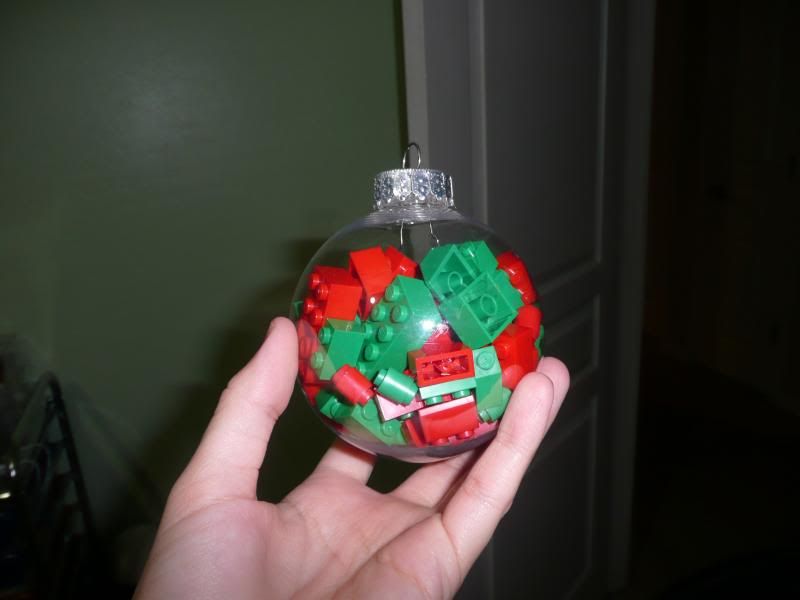 This next little batch is also super easy. I simply used my paper cutter to cut strips of paper, then rolled them really tight around a pencil. I shoved them into the ornament where they unwound and voila!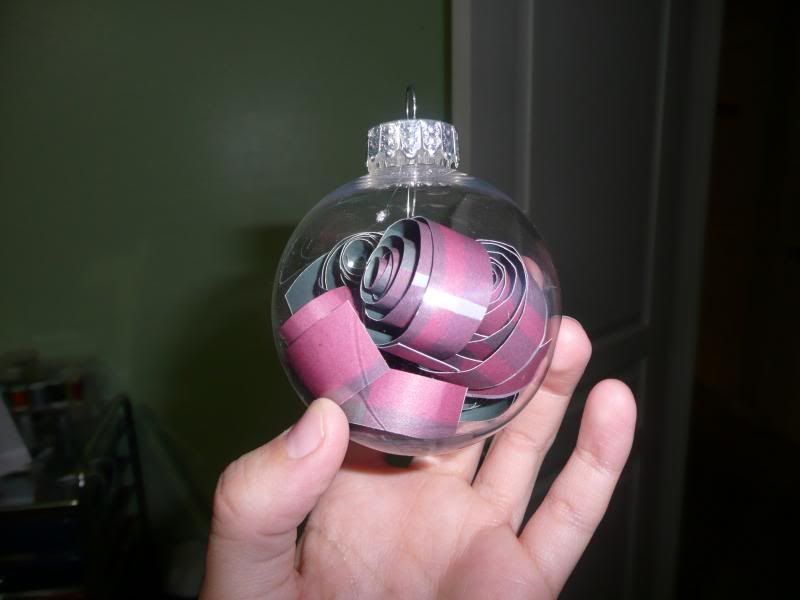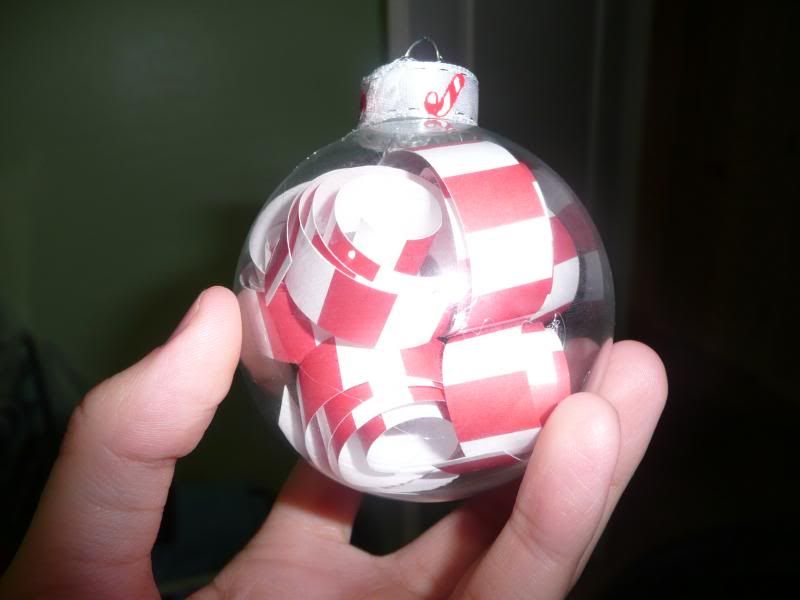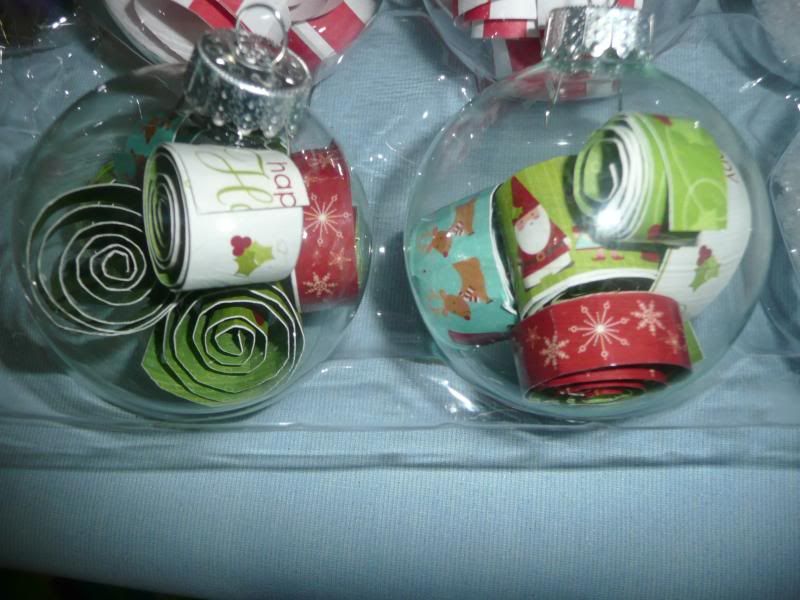 So that wraps up Christmas DIY 2012. Only six... almost seven... months late. I was at hobby lobby the other day and they are already putting out their Christmas gear. Makes me think I really need to get in gear this year! Especially since our next child is arriving in early November. Better start now!