Halloween is my favorite holiday of the year. Each year I go more and more out for the holiday and it is with great sadness that we can't decorate our classrooms for Halloween. All the same, I tried these as an experiment and somewhere along the line they became my Halloween Stockings.
I saw a pair of fishnet stockings, somwhere, online that was knitted with regular knitting needles. I thought, hmm... I bet I can do that with a knitting loom... and I did!
The back of the socks, laying side by side. They are sewn up the backs with orange ribbon and tied up in a bow on the top.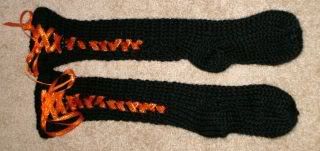 The back in action
The front side of the sock. In the cuff of the sock I sewed in elastic to hold the socks up.
I do intend to write up a pattern/tutorial for it.