This black and white button jewlery set is very similar to the
green and blue set
that I previously made. The necklace is designed a little differently and it is minus a ring, but other than that the two sets are nearly identical, save for the differences in color of course.
The whole set:
A closeup of the necklace layout: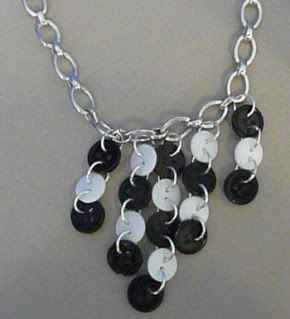 A close up of the earrings:
Close up shot of the bracelet:
I've got a few more button sketches so expect to see some more button work in the next few weeks (I hope). I'm back to work/school next week...