I just love these mini cross stitch kits you find at the craft stores for $1.99. They are nice, quick projects to work on. I like to use them to take a break from the big projects I'm working on.
First up are the Disney ones: Ursula (from
The Little Mermaid
) and Piglet and Winnie Pooh from
Winnie the Pooh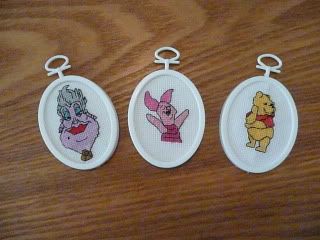 A second Disney batch: Little Nemo (
Finding Nemo
), The Wicked Stepmother (
Snow White
), Lightening McQueen (
Cars
), Eeyore (
Winnie the Pooh
)
I Love Dogs:
I think the Racoon is absolutely adorable!