WHEW! I have BEEN busy! Over the last few weeks (about 2.5) I've cross-stitched Zoey from
The Pretender
, Han Solo from
Star Wars
, Bria Tharen from the
Star Wars
novels, Jayne from
Firefly
. I've created one of those great card books found at
crafster
and a wedding planning dream album. NOT to be confused with the wedding planner. More information found below! Enjoy the descriptions and the pictures:
First up is Zoey from
The Pretender
. She's stitched in the same style as
Mr Raines
and
Miss Parker
: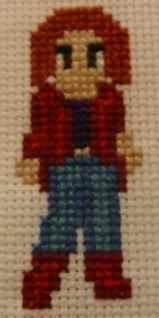 Next is the third Star Wars character in the same format as
Queen Amidala
and
Princess Leia
. He came out much cuter than I thought he would. Mace Windu is up next!
And a picture of all three: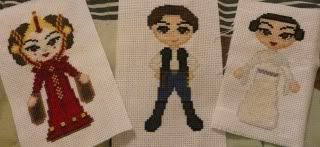 They look a little different in size even though they are all the same size. Amidala's head looks SO much bigger but I think that's becuase of her head piece. :)
The last cross-stitch of the bunch. Jayne from
Firefly
, along with the lyrics from
Jaynestown
.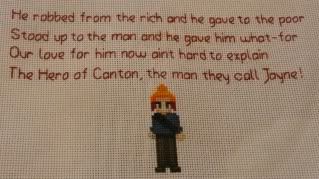 A closeup of Jayne:
This one isn't quiet finished yet. It need to be framed, but I need to save every last penny for the wedding, since we set our date for 11-01-2010 (yes its a Monday, but its the day we met).
Card books are found ALL over craftster, especially after this last Valentine's Day.
This was the orginal post where I found my insipration!
. I made one of these for Chris for Valentine's Day.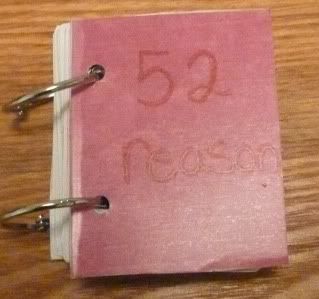 Forgot to take a picture of the back. Sorry!
Some of the things I had to say: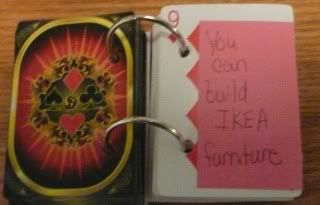 Really easy to make, just glued post-its to each card. I'm in the process of making a "sequel" (which'll be a small portion of his wedding gift), that one will be more in depth and more decorated. This one was actually done on the fly as a last minute idea.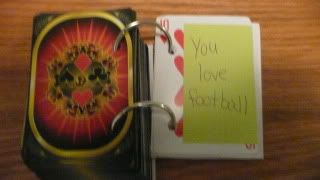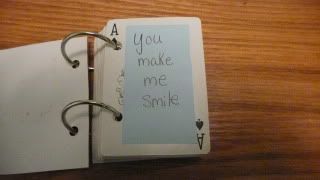 And finally...
THE WEDDING INSPIRATION BOOK!
Now, I have a wedding planner (one I've designed for myself) to be shared when I've finished decorating it the way I want it to be. :) This is a seperate book in which I print off pictures of things I like and where I find inspiration. I have the WORST luck with computers so I decided to print off these things so they don't get lost. The best part of this little side project was that I didn't buy anything new for it.
The cover: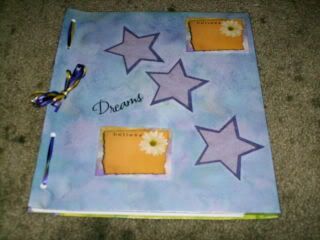 I took scrapbook paper and cut it down. Attached some stickers and cut outs. Covered it in contact paper and hole punched three times.
The back cover: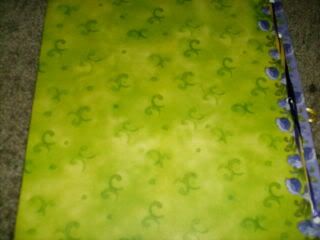 Done the same way as the cover. I then hole punched several sheets of cardstock. I then took three pcs of ribbon (purple, black, and yellow) and laced them through the holes. I tied them up in a nice double bow on the front. This allows for expansion (if needed).
The pages: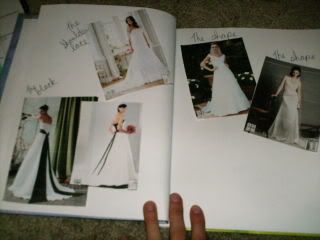 I am/will be making my own wedding dress so I pulled together some pictures for inspiration.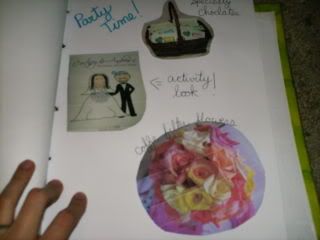 WHEW! Well that's about it for now. I'm working on my Mace Windu pattern at the moment, although everything for the most part is probably going to be put off for a few months (or several) as we plan the wedding. We're planning on getting married in Vegas so it won't be TOO much of a hassle and I am looking forward to all the craft projects I get to do for it! :)