I saw
this pattern for house scarf earrings
at Leaky Cauldron and fell in love with them. My knitting skills however leave something to be desired, so I figured I'd make them from seed beads. They are five beads by 29 rows. I made them on my beading loom.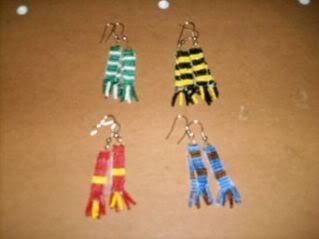 Here's the patterns I used in making these. Click on the picture for a large image. If I had somewhere to upload a PDF file, I would do so. For each house I used a different pattern - just playing with colors.
Just a side note: My favorite pattern is the one I used for the Slytherin scarf and the one I used for the Ravenclaw scarf.