What do you do when you have a 3.5 week old baby, you're exhausted, and you need to make dinner? You dig through your pantry and see what you make with what you got. Here's what I ended up making for dinner last night. Simple, easy, and best of all it is something that my husband will eat again!
Chicken Alfredo!
Here's what you need:
4 boneless skinless chicken breasts
1 egg
Bread Crumbs (I used Italian)
Noodles
Alfredo Sauce
Preheat your oven to 400 degrees. Dip the chicken breasts in the egg and then in the bread crumbs. Drop them in a 9 x 13 baking dish (I always line mine with foil first so that the clean up is easier). Drop them in the oven for 20 minutes.
While the chicken is cooking, cook the pasta, drain. Cut up the chicken breasts into smaller pieces, drop over the noodles, and cover with Alfredo sauce. Voila. Dinner in less than 30 minutes.
Onto the savings! As any good money saver/crafter knows, JoAnn Fabrics has fantastic deals over the holiday weekends. This weekend (being Columbus Day weekend) they had Simplicity patterns on sale for 99 cents. This time I was smart. I went into the store on Thursday (the day before the sale started) and wrote down the pattern numbers that I wanted. I went in Friday morning as soon as the store opened and while all the other ladies were digging through the books, I dug through the cabinets! Bwahaha!
Total spent: $10.98
Money Saved: $124.90
Woot! Woot! McCall's patterns go on sale Thursday. I've got the pattern numbers I want, so when my hubby gets home from work (or rather before he goes in) I intend to hit up the cabinets!
Earlier in the week I made a few bibs for the Little Man:
I had leftover fabric from his tummy pillow:
I had some Cars fabric in my stash that I picked up over a year ago at a Hobby Lobby and now I finally had a use for it:
I also had some snowman fabric left over from last Christmas.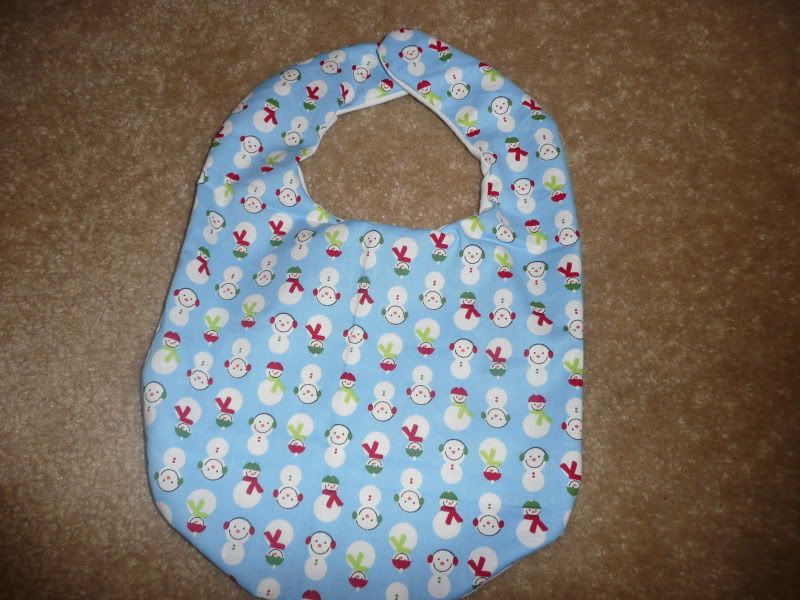 I certainly won't be making any more bibs for the little man. Not that I didn't enjoy making them or that I didn't like them, but because he has so many of them! We've gotten bunches of them in the mail from family over the last few weeks, and bibs are certainly one thing he doesn't need anymore of!
Last but not least, some binky leashes:
These were made using ribbon I found in my stash and suspender clips (which were actually a pain in the neck to find! I thought for sure that stores like JoAnns and Hobby Lobby would carry them, but apparently not...)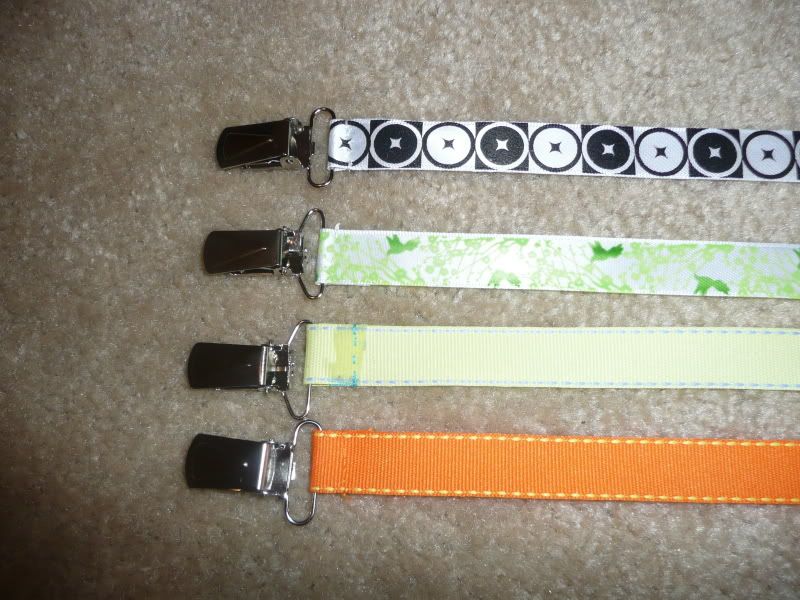 And I put my new snaps and snap plier to good use: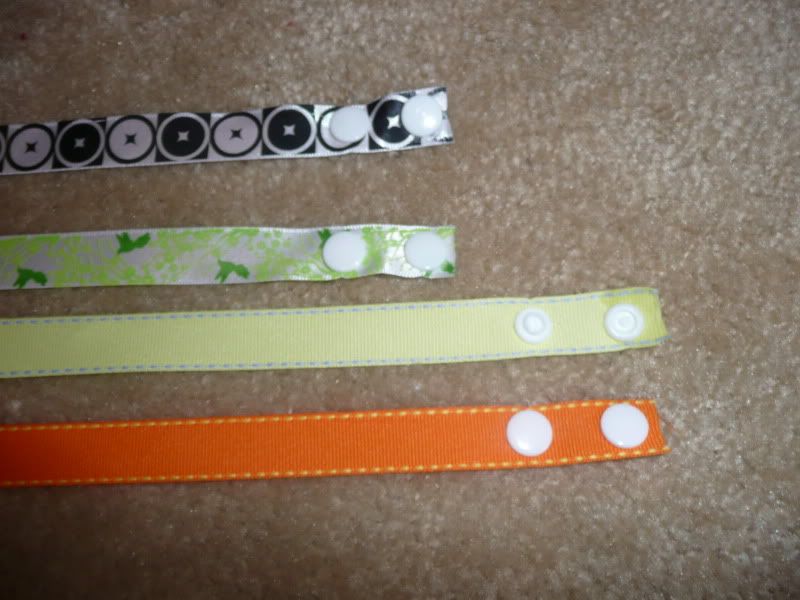 I don't know how much use we'll actually get out of the binky leashes though, because so far he really doesn't use his binkys.
Okay, whew, I think I'm all caught up on things that I have completed and finished. My husband goes back to work tomorrow so I doubt I will get any crafting done while he's at work. Although Little Man has more or less slept through today, so here's hoping he sleeps most of the day tomorrow. I need to get his diapers done!