I didn't get much crafting done in July or in August, as I was preparing to go back to work. Boo. I also didn't have much motivation. I was running around like a mad woman trying to get not only my classroom set up, but also get it ready so I can go on maternity leave.
My due date was Sept. 18th. I was planning on working up until I went into labor, but then I was feeling pretty miserable (mostly at night and probably because I was working all day), so my husband and I discussed it and decided to make my last day at work Friday, Sept. 9th. At that point I want crazy with surfing the internet (thank you google!) for baby crafts and digging through my sewing patterns stash (love those 99 cents sales at JoAnns).
I got to work pulling together a list of ideas and then materials (I've mostly been working through my stash, buying very little), crafting. I worked nonstop on Monday, Sept. 12th... then my water broke (more like slowly started leaking) that evening.
Baby Alexander was born the following morning (via C-Section, he was breeched). Good thing my last day was a week earlier! So... to make a long story, shorter, here's what I got completed before my precious little son was born:
First up, are some items I created using (and I hang my head in shame at this) Simplicity patterns. Good thing I refuse to pay full price for those patterns, cuz these I probably could have sketched up on my own - if I ever paid attention to babies and their things before.
These all came from the same pattern (I don't have the number in front of me) but I think the title was something along the lines of "diaper bag and diaper bag acessories".
This is a portable changing pad. I LOVE this item. Since our baby is sleeping in a pack-in-play with an attached changing table in our bedroom currently, this is a great item that we are using right now. Once we start traveling with our baby this can be rolled up and placed in the diaper bag. The fabric is sandwhiched between vinyl (I hate working with that stuff) and terrycloth. The vinyl is great (even though I hate using it with my sewing machine) because I can just wipe down any messes he makes.
The next item that came from this batch of patterns is a tummy pillow. No its not a breast feeding pillow (its not big enough for that). Once baby gets a little bigger (and can hold his head up) it'll be a great item to help make his tummy muscles stronger. My husband and I chose the jungle fabric because his nursery is jungle themed.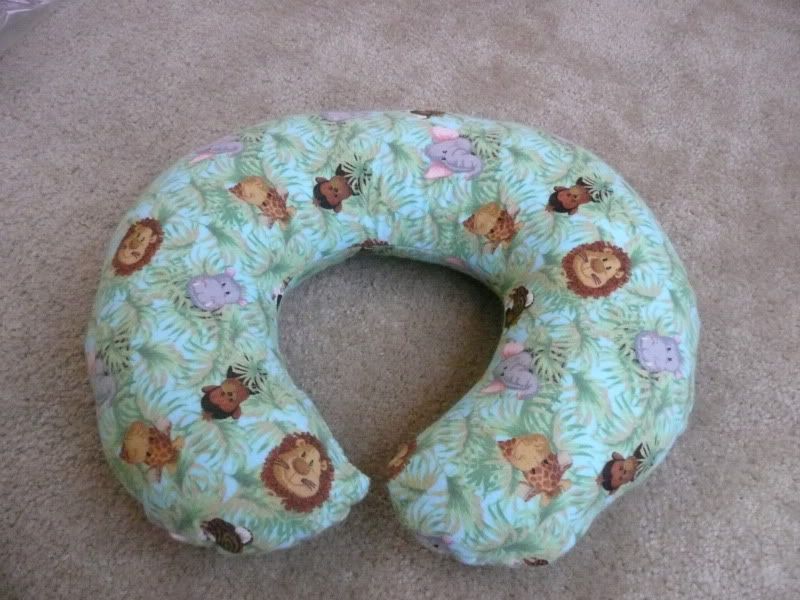 The final item that I managed to finish (from the Simplicity pattern) before Alexander made his debut was a burping cloth (well, actually three). Easy pattern. One side is the fabric the back side is terry cloth. I only bought enough fabric to make one (the pattern called for 3/4yd) but guess what? 3/4 of a yard gets you three plus some extra! I wish I had made more though... he spits up so much.
While my husband and I were digging through the nursery prints at JoAnn's, we found some fabric to make those awesome cloth books. I used fusible batting in between the pages instead of quilt batting (quilt batting would have been WAY too thick to make this work with my sewing machine). Oddly enough, the characters on the tummy pillow are the same characters in the cloth book and on the wall hanging that I made (which I don't have pictures of yet.)
Here's the book: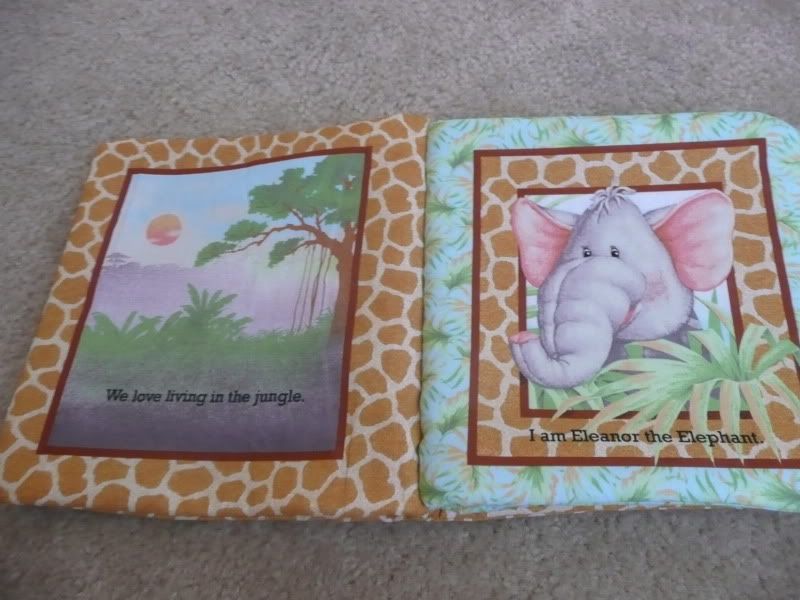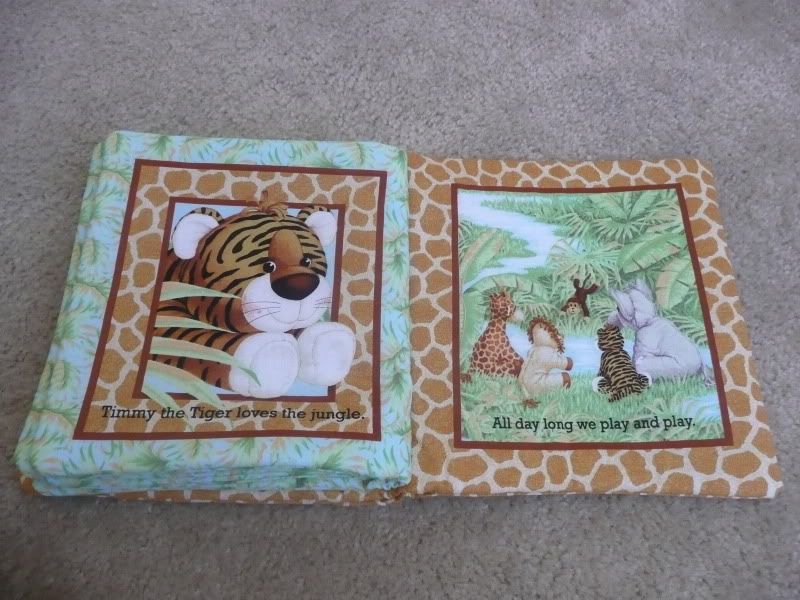 (I still need to use fabric markers to fill out the back page).
The final item that I managed to get through (well half way through) before my little bundle of joy arrived were these write rattles. I made WAY too many, but they were
so
easy to make, I couldn't help myself.
I found this
great pattern
on how to make wrist rattles. I use fabric scraps and fat quarters that I had home. The only thing new I had to purchase were the little patches (which came nine in a pack). I probably should have saved the patches for something else to make for him, but I was on a crafting overload. Plus these things were just too cute! I couldn't help myself.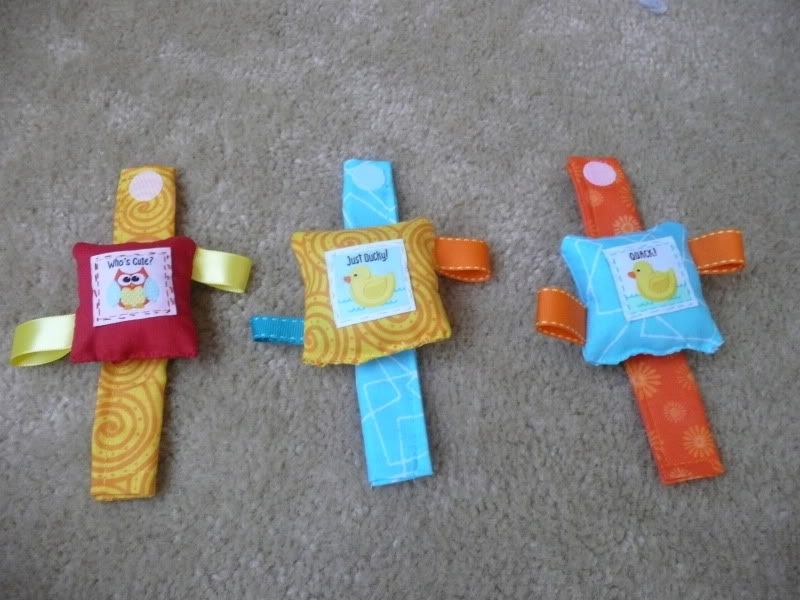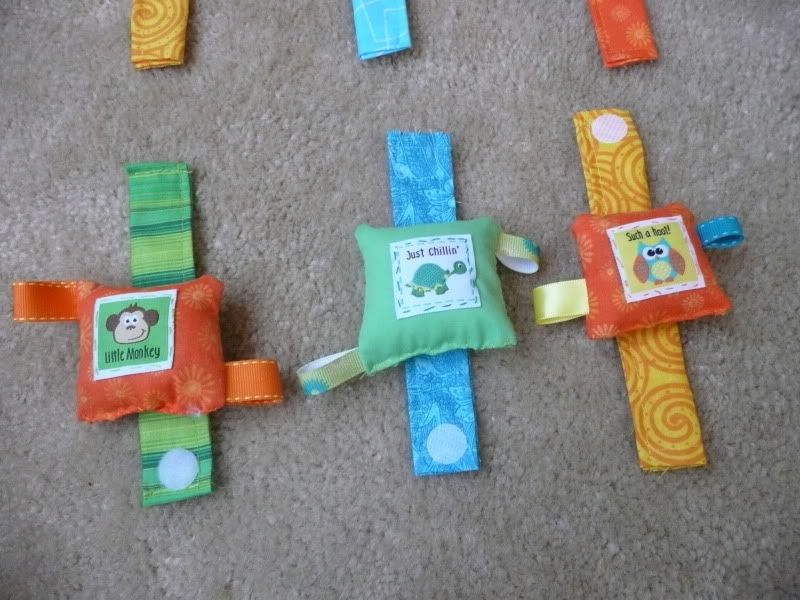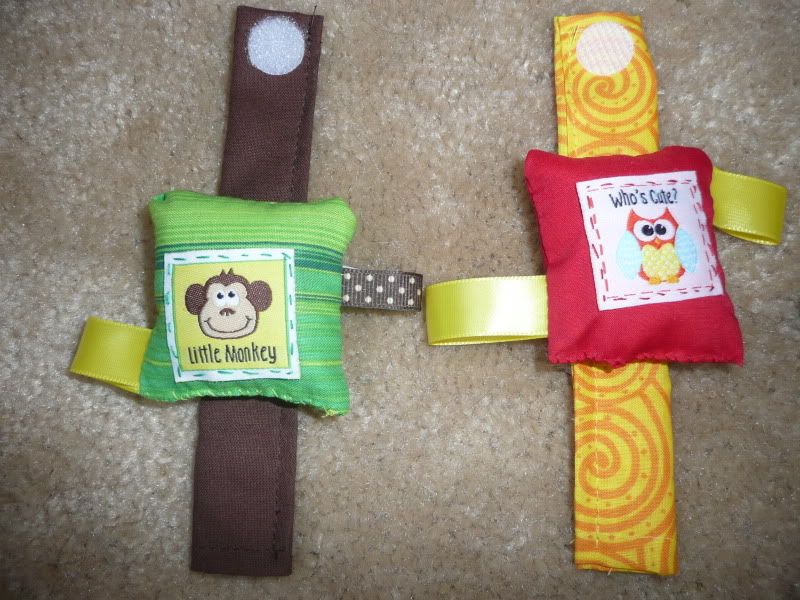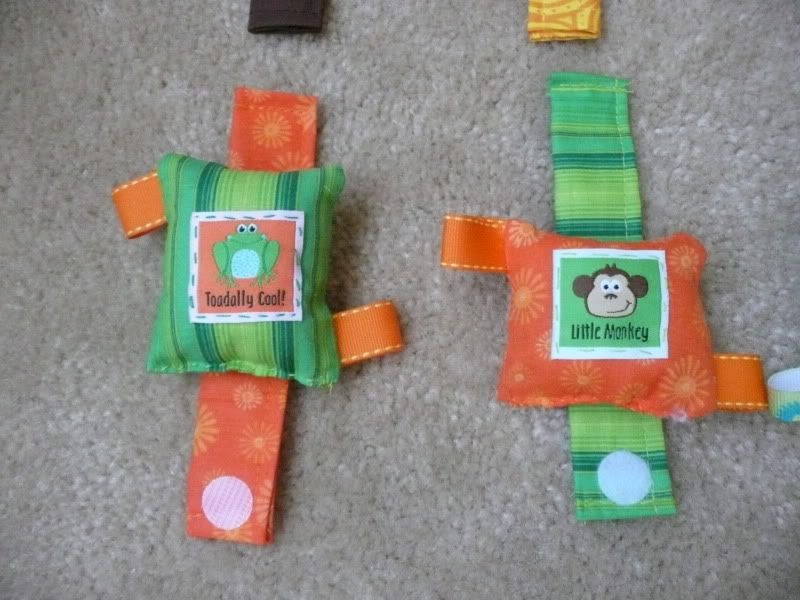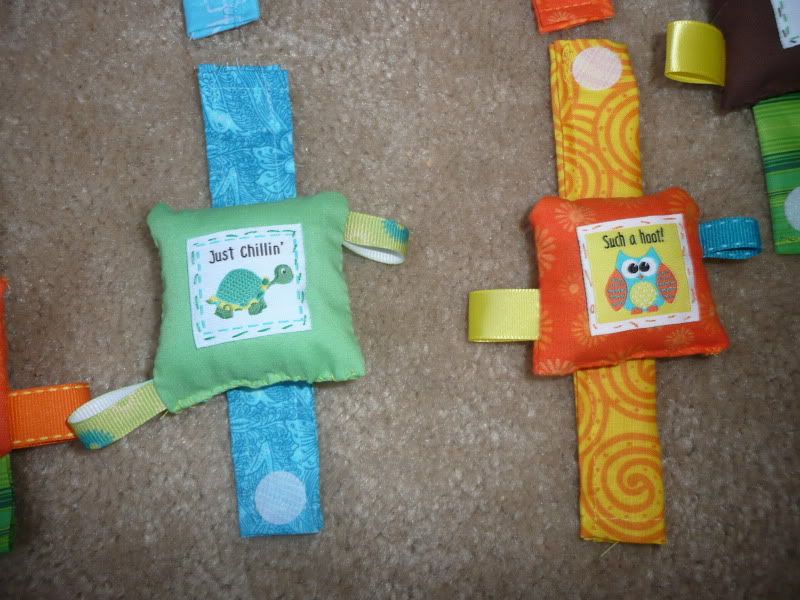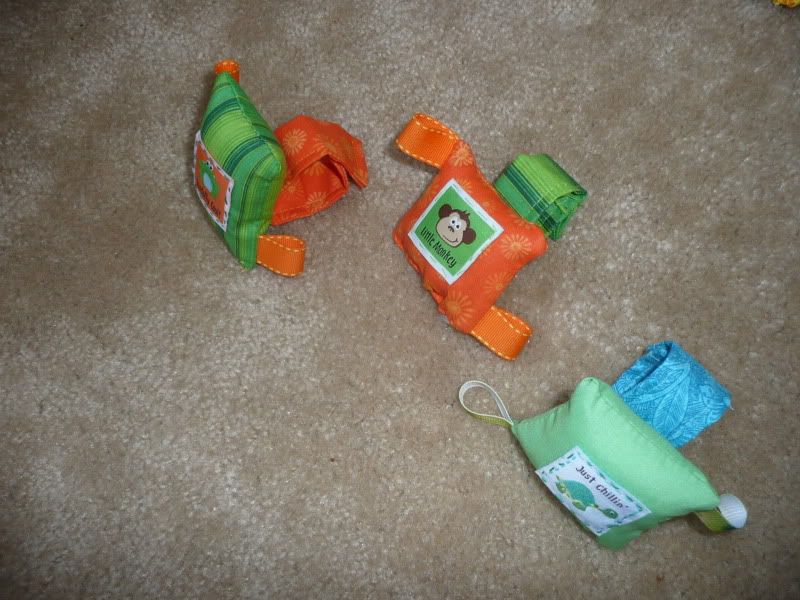 I have TONS of more things that I want to make for my wonderful baby. I need more geek crafts (I have a Yoda and Boba Fett rattle in mind, along with a Star Wars Quiet Book and Mario Brothers booties). I also want to make some crinkle toys, bibs, and covers for my nursing pillow. I'm on maternity leave through Thanksgiving and I have the perfect little man who sleeps all the time, so we'll see what I get done.