Although, I have been crafting! Sort of. School has kept me going here and there and everywhere. I have parent teacher conferences next week (all week) and then I'm off for a week, so maybe I'll get some crafting done!
First up are some old, old projects that I did way back when I was first learning how to knit. I was going to wait to psot these until they had their counterparts done, but they've been sitting my "take pictures" pile so long I got sick of it.
The first up is a pink and white hat & scarf set made from knitting looms (the missing counterpart is mittens)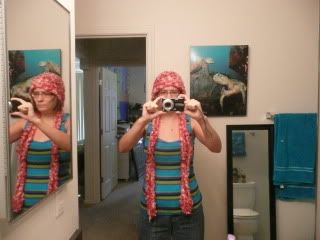 The second is an orange/yellow/red fingerless mitt and scarf set (the missing counterpart is the hat). I'm still learning how to circular knit with needles, yes its not that hard, but I have a small head.
I just LOVE this yarn!