Here's the story: I love scarves. However I live somewhere where is about 100 degrees all year long. Not a good place to wear a scarf. Not at all. So I came up with this "bright" idea to make a scarf completely out of sead beeds. What a beast. It took me weeks (working on it here and there) to complete it.
It took 10,897 seed beads (about $6.00 worth of beads) and completed it is 4 feet and 11 inches long.
I told my boyfriend when I finished I was never doing another one. That was until I finished it:
An up close shot at the design:
Action shot: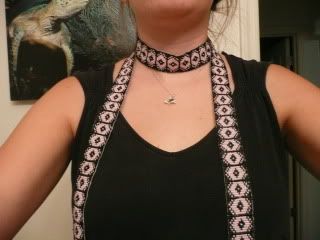 Action shot of the length:
I think next I'm going to do a green and black belt. I've already go the method picked out as well as the design. Now I just need the materials...